BioGlue® SURGICAL ADHESIVE
Product Highlights
The only surgical sealant approved to seal, adhere and reinforce tissue. 1
The strongest surgical sealant on the market.2
There are over 500 published clinical and preclinical papers about BioGlue.3
References
BioGlue Summary of Safety and Effectiveness.
Murdock M H, et. al. (2019). Cytocompatibility and mechanical properties of surgical sealants for cardiovascular applications. J Thorac Cardiovasc Surg, 157(1), 176-183.
Artivion Internal BioGlue Bibliography.
REQUEST A QUOTE
THE POWER OF THE CORPULS3 ON YOUR WRIST
Corpuls control is a revolutionary add-on product for the corpuls3. It is also our first step into the world of mobile applications. The idea behind it: it is not always possible for rescuers to work on a patient without endangering themselves. For example, during a mission in an ambulance or during a turbulent rescue flight, there is always the danger that the rescue personnel could lose their balance. A fall can have dire consequences for both the rescue personnel and the patient. It is safer for the crew when they are strapped into their seats. But then the patient monitor may not be in reach.
Clinical Evidence
Artery Burst Tests
Artery Burst Tests Show BioGlue® is Significantly Stronger Than PREVELEAK®, Coseal®, and Tridyne™ VS.1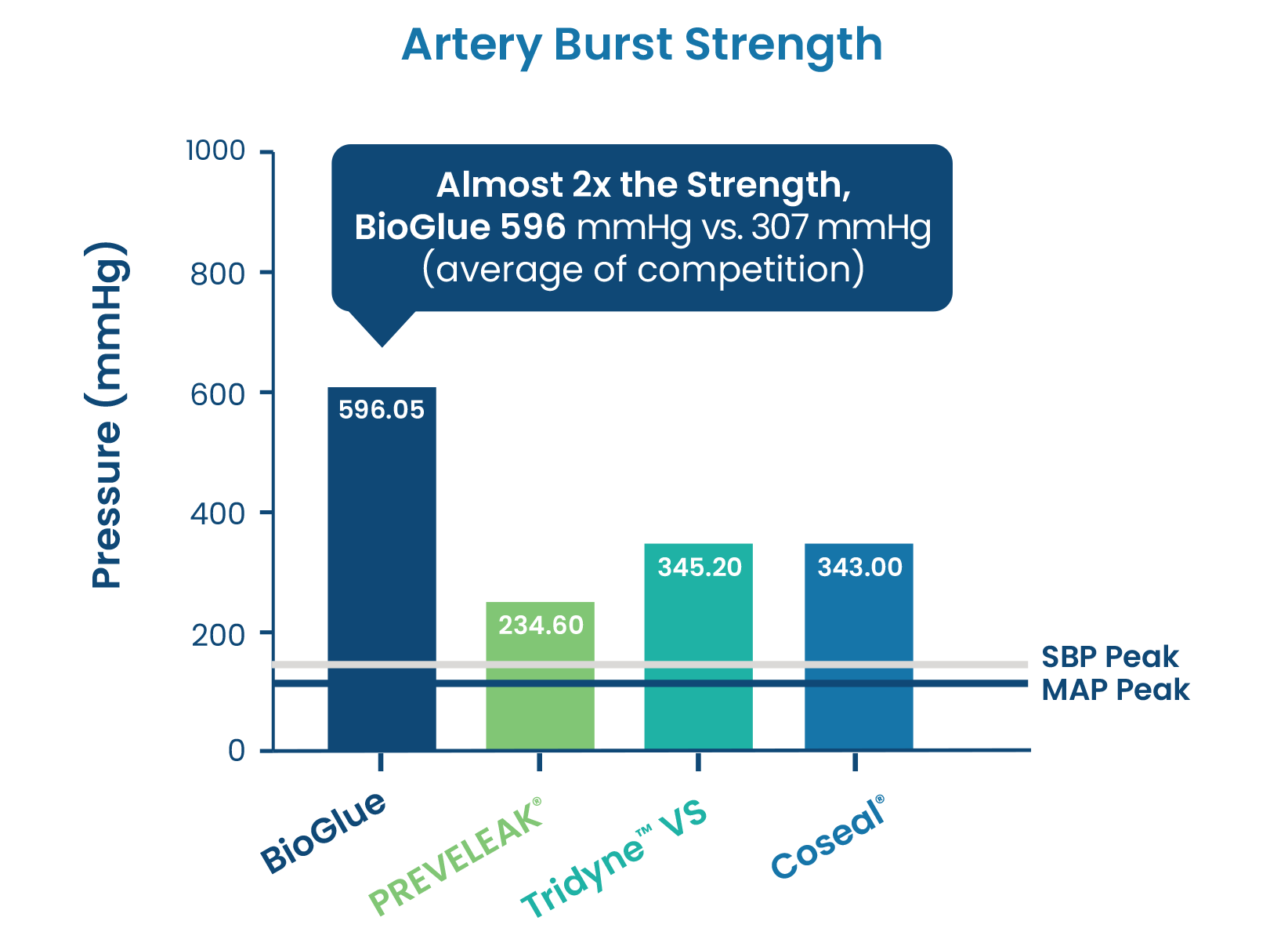 Reinforcing why BioGlue…
Is the ideal sealant

​

Is the only surgical 

sealant approved to 

seal, adhere and 

reinforce tissue8​

Is the gold standard in 

cardiac & vascular 

surgery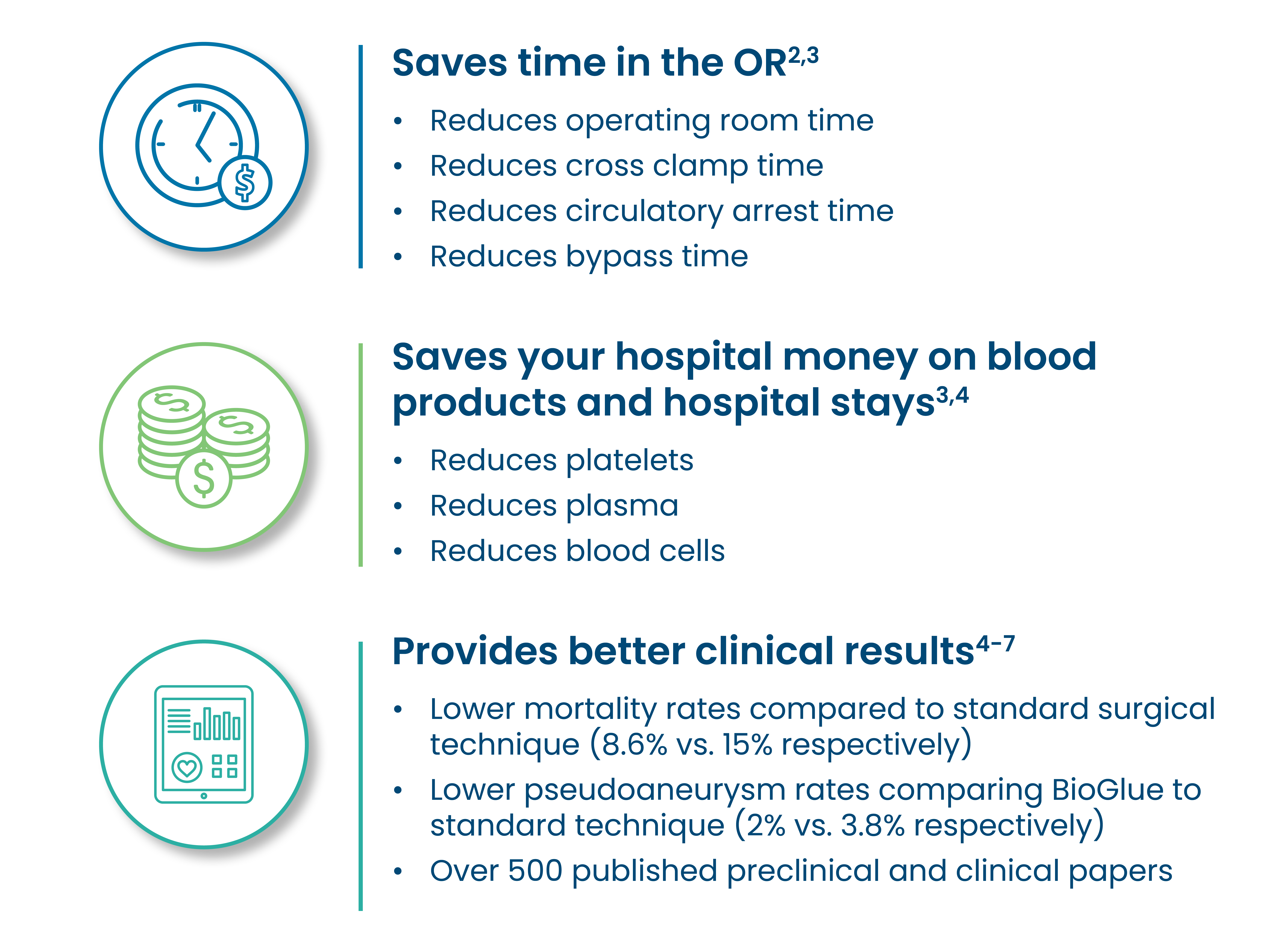 Clinical Evidence  References
Murdock M H, et. al. (2019). Cytocompatibility and mechanical properties of surgical sealants for cardiovascular applications. J Thorac Cardiovasc Surg, 157(1), 176-183.
 Feier, H. et. al. (2019). The influence of albumin/glutaraldehyde sealant in early results after acute type A aortic dissection. REV.CHIM.(Bucharest), 70(6).
Chao, H. et. al. (2003). BioGlue: albumin/glutaraldehyde sealant in cardiac surgery. J Card Surg, 18(6), 500-503.
Fehrenbacher J W, et. al. (2006). Use of BioGlue in aortic surgery: Proper application techniques and results in 92 patients. Heart Surg Forum, 9(5), E794-799.
Internal BioGlue Bibliography
Weiner, J. et. al. (2011). Role of bovine serum albumin-glutaraldehyde glue in the formation of anastomatic pseudoaneurysms. J Card Surg, 26(1), 76-81.
Bavaria J E, et. al. (2002). Advances in the Treatment of Acute Type A Dissection: An Integrated Approach. Ann Thorac Surg, 74, S1848-1852.
Bioglue Summary of Safety and Effectiveness
Explore additional resources for BioGlue below
Proper application of BioGlue provides better clinical results.1-3
Product Video References
Fehrenbacher J W, et. al. (2006). Use of BioGlue in aortic surgery: Proper application techniques and results in 92 patients. Heart Surg Forum, 9(5), E794-799.
Bavaria J E, et. al. (2002). Advances in the Treatment of Acute Type A Dissection: An Integrated Approach. Ann Thorac Surg, 74, S1848-1852.
Artivion Internal BioGlue Bibliography